Stand Tall With Sarah's Inn Tickets
Stand Tall With Sarah's Inn Tickets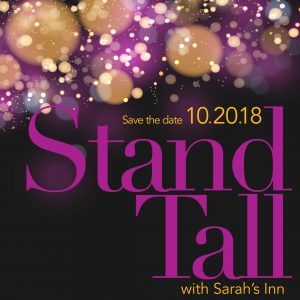 Events Details
Date
Saturday, October 20
VENUE
Oak Park Country Club, 2001 Thatcher Avenue, River Grove, IL
Enjoy cocktails, tempting treats, and entertainment from the talented Aaron Kaufman-Levine Quartet.  Don't miss the wine pull (with a special twist) and amazing, one of a kind offerings at our silent and live auctions.
Thank you to our 2018 Stand Tall sponsors to date, including these top-tier event sponsors:
Together Strong Level
Linda and Kevin Conway
Visionary Level
Bob and Loretta Cooney
Sabra Ebersole and Cindy Eggemeyer
Good Heart Work Smart Foundation
McDermott Gall Wealth Management Group of Raymond James
Don, Diane and Janel Sutkus
Benefactor Level
City Escape Garden and Design
Community Bank of Oak Park River Forest
Sara and Jim Lynch
Hanley Dawson/The Patrick Dealer Group
Murray Bros Caddyshack
Paul Gearen, Nicolson, Porter, and List, Inc.