Stand Tall With Sarah's Inn Virtual Event – 40th Anniversary!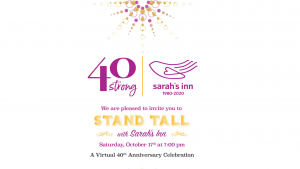 Stand Tall is Sarah's Inn premier event, and this year it will be extra special because Sarah's Inn turns 40! Stand Tall provides a wonderful opportunity to showcase our important programming, raise funds to support our vital programs, and cultivate relationships in our community.
We are excited to celebrate our 40th Anniversary with you at our free virtual Stand Tall event Saturday, October 17th at 7:00 pm! This new format opens the door for more people to attend and learn about Sarah's Inn, and for us to highlight the impact of our generous sponsors.
Everything I need to know about Sarah's Inn's Virtual Event!
Step 1: Register for Mobile Bidding for Silent, Almost Live Auctions and Paddle Raise with OneCause… please text SI40 to 243725 OR visit our OneCause Website at http://bidpal.net/si40
Step 2: Login on Saturday 10/17 at 7 p.m. CST to attend Sarah's Inn's Virtual Stand Tall Event via Zoom Webinar  https://us02web.zoom.us/j/86913670866
Questions? Please email Katie Hickman at katieh@sarahsinn.org or call 708-556-2131
A HUGE thank you to our Stand Tall Committee!
Stand Tall Tri-Chairs
Beth Cohen
Amy McFarlane
Liz West
Stand Tall Committee
Lauren Behan
Maggie Clancy
Molly Crawford
Maryanne Fishman
Laura Manola
Ann Schimmel
Kim Wojack
Frequently Asked Questions (FAQ)
1) What is a virtual event and how can I view it? A virtual event is an event that you can attend from the comfort and convenience of your home, or wherever else you can think of, through your personal computer, such as laptops or desktops, mobile device or tablets (like iPad, Samsung or other brands).
Please note: If you are using a phone or tablet, you will need to download the free Zoom app to access Zoom on these devices.
2) How long will the event run and will any of the evening's events be "live"? The Sarah's Inn Stand Tall event begins at 7:00 pm. and concludes at 8:30 pm. There will be live segments featuring our Executive Director and Auctioneer that you will not want to miss!
3) From 7-7:30 we will have entertainment and messages about our programming. We will also feature our new building! At 7:30 pm our official "live" program begins!
4) Can I play the event on my television or larger screen? Yes! To do so, you will need to connect a laptop with an HDMI cord to the back of your television.
5) Can I share the zoom link to the event? You can also share the link and forward it to as many people as you think may have an interest in joining us on 10/17 at 7 p.m.!
6) What if I am not registered and I want to join the event after it has started? As long as you have the zoom webinar link, you can join at any time!
7) What do I wear to the virtual event? Absolutely anything you want! Dress up for your own party or come in your PJ's. You will be able to view the Sarah's Inn program but you or other attendees will not be shown on the screen.
8)When I make a donation during the paddle raise, will my name be mentioned? Or shown on a screen? No. Because this is a virtual event, we want all our guests to feel comfortable and will not announce names at each donation level.
9) How do I bid on Auction and Almost Live Auction items? You will also need to register with OneCause, our mobile bidding platform, to bid. Please text SI to 243725 or visit http://bidpal.net/si40 to register with OneCause. It's that easy!
10) When does the Silent Auction Open? The Silent Auction is Open! The Almost Live Auction will feature three amazing items and will open for bid one the night of our virtual event, Saturday October 17 at 7 pm. The Almost Live Auction will close on Saturday, October 17 at 10 pm. You can preview all of these items starting on Friday, October 9.
11) What is the Almost Live Auction? The Almost Live Auction has three amazing packages that are only available for bid on the night of the event. You can preview these items beginning on Friday, October 9, but the bidding war begins on Saturday, October 17 at 7:00 pm…. So get your fingers ready!
12) What if I want to make a donation but prefer not to make it through the mobile bidding site? Easy! You can go here to donate . Or, mail a check to Sarah's Inn, PO Box 1159, Oak Park, IL 60302.
13) Do I have to have the Zoom App to be a part of this event? If you plan to view the event on your phone or iPad, you will need to download the free Zoom app. You do not have to have a Zoom account. We recommend you download the free Zoom App ahead of the event.
What if I have other questions before the event? Easy – please email or call Katie Hickman at katieh@sarahsinn.org or call 708-556-2131.
Are all my contributions made the night of Stand Tall tax deductible? A donation to the paddle raise is 100 percent tax deductible. Silent and Almost Live donations are only deductible if you bid higher than the fair market value of the item (Value of Item: $100 – Final Bid – $120 – Deductible amount – $20). Raffle tickets are not tax deductible.