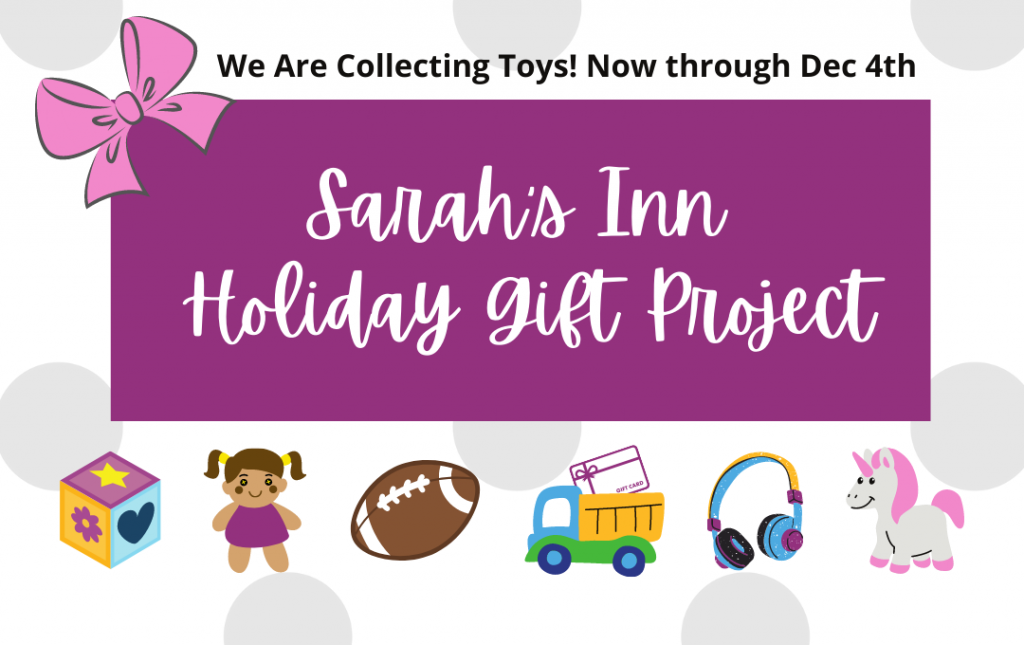 Sarah's Inn Annual Holiday Gift Project 2020
For nearly 20 years, Sarah's Inn has been hosting our Annual Holiday Gift Project – where we distribute gifts to our clients for the holiday season.  With your generous support, this event assists approximately 150 of our families with 350 children receiving 1,000 gifts!   This year, our clients' needs are even greater – so we need your help even more. We will need to have gifts unwrapped to Sarah's Inn by December 4. Thank you!
Here's how you can help….
Host a Gift Drive
Organize your workplace, organization, classroom, faith community, or group of friends/family/neighbors as a collection site.  Sarah's Inn will provide you with a large collection box and all the information you need to have a successful drive.  We do the pick-up, too!  Want to make it as easy as possible for folks to give?  Your group can even select a specific age group – just let us know!  We do need gifts for children from age 0-18. Please note that teenagers make up about 60 percent of the kids we serve.
Just Shop and Drop
Has it been a while since you shopped for a child or teen?  Have no idea what they like?  No worries – just pop open our Amazon wish list or buy a gift card to Old Navy, Amazon, Target, Walmart – or any other store where gifts or gift cards can be purchased.  Have your gift delivered right to us at 1547 Circle Ave., Forest Park, IL, 60130 or drop it off at our office on a Monday, Tuesday, Thursday, or Friday between 9am and 4pm.  If you do shop through Amazon, please be sure to include your contact information with your purchase so we can thank you.  We appreciate gifts in the $20-$25 range so that we can evenly distribute across our families.  And, please, no gifts that echo violence or sexism.  
Here are links to our wishlists:
Amazon: https://www.amazon.com/hz/wishlist/ls/3M5IIY4XZJO4K?ref_=wl_share 
Target: tgt.gifts/SarahsInn 
The Book Table 10% back to Sarah's Inn https://www.booktable.net/wishlist/794
Gift Ideas:
Building blocks and Legos
Dolls (all skin tones)
Stuffed Animals
Art Project Kits
Play-Doh sets
Portable speakers
Headphones
Games for teens/tweens
Footballs, basketballs, nerf, etc.
Gift cards – Old Navy, Target
Harry Potter or Star Wars items
Scooters or skateboards
Chemistry kits/STEM activity items
Bracelet/necklace making kits
Jewelry Boxes
Journals and gel pens
We will need to have gifts unwrapped to Sarah's Inn by December 4. You can have your gift delivered to Sarah's Inn at 1547 Circle Ave., Forest Park, IL, 60130 or drop it off at our office weekdays between 9am-4pm. Please contact Katie Hickman at katieh@sarahsinn.org